Dunkerque, France: We did it! We mustered all our courage and tried a fully fledged guerrilla gig. We walked in a bar and asked, if we could play right away.
Well, we got rejected without explanation.
But thanks to Benni's past as a successful entrepreneur, such setbacks do not stop him on his quest for free beer. So we went on, besmirched and scared, but thirsty and willing to succeed. And indeed, we succeeded. The next barkeeper agreed, and he turned out to be very generous at the tap, so that not even the missing audience did bother us. Thank you for the great night in the Kilimanjaro-Bar, Amar!
The next morning we found out, that our ferry does not start from Dunkerque. A skipped morning routine and an one-hour-hustle later, we found ourselves on the ferry which will soon lead out of the EU. Hendrik went into rhapsodies about the white cliffs of Dover but did not anticipate the weather which was going to accompany us the next weeks. Ergo, no welcoming panorama but fog and rain.
We got offered sanctuary in North Wales. Scott, a friend of Hendryk and Master of the arts of British breakfast making, cosseted us like grandparents their favourite grandchild. The resulting holiday feeling and the fact that Tim had to fly to Germany for two days made us neglect a bit our rigorous tour planning. But we've taken the time too look for some North Wales adventures. We had none but took nice pictures: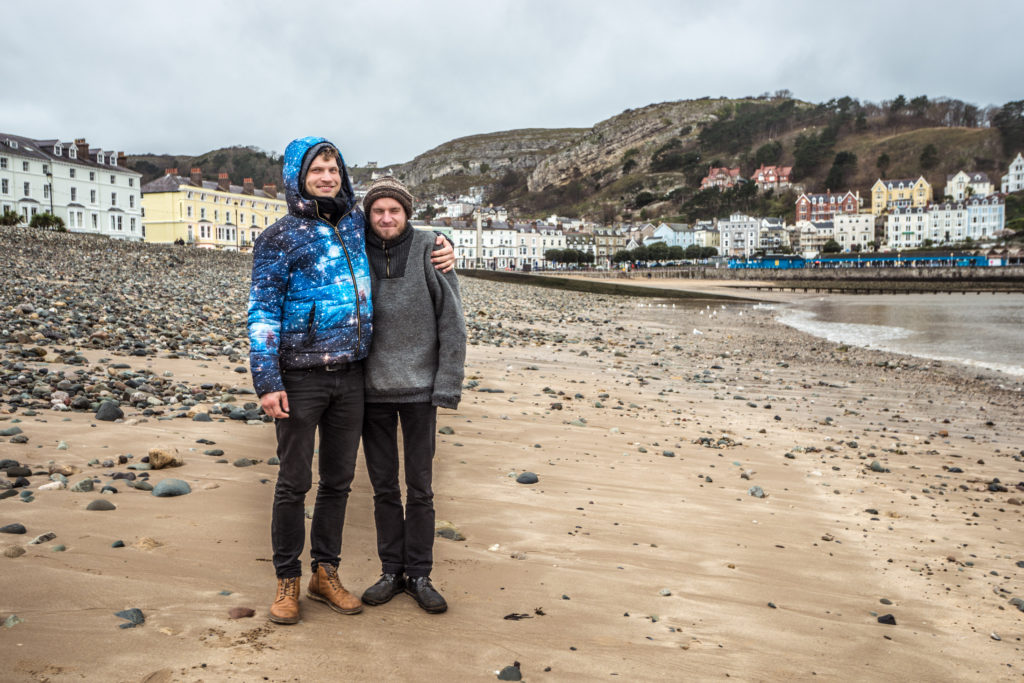 From the musical point of view there are two noteworthy events I have to mention before I can finally file away this exhausting blog for today. First of all the "Irish Bar" in Llandudno. We came with no expectations and left with an overdose of endorphins.
Our set was maxed out, people were dancing, beer was free and our diesel tank was more than refilled. Our big gratitude goes to the owner and the extremely kind staff of the bar.
Second, the "Liverpool Arms" in Conwy. A super cosy pub directly at the picturesque harbour of the town. As we entered, the only guest was an elderly man. And after a dispute between him and Tim about the Brexit and the metric system even he grabbed his hat and left. Yeah, we did not even unpack the instruments, finished our pints and went to Scott to see a trash movie.
It's time to leave our new comfort zone. Show us, what adventures you hide, Ireland!